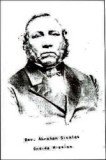 TIME LINE
1840 - My great great great grandfather Abraham Sickles leads a small group of Oneida Indians from New York to clear land and farm along the banks of the Thames River 
1891 - The Indian Act is enacted and contrary to the British North America act and many treaties, it makes it illegal for "Indians" to engage in commercial agriculture.  Despite this unjust law, Oneidas continue to farm along the Thames.     
1930's - A Canadian federal Indian agent orders most of Oneidas cattle slaughtered after receiving a complaint from non-native farmers that Oneidas are engaging in commercial agriculture.  The stories from my elders are that my grandfather hid our cows down by the river and his herd evaded slaughter. 
1973 - My grandfather passes away and the farm I was growing up on ceases to operate
2014 -  I follow my life long dream of restarting our homestead farm. After several discussions with the minister of Agriculture, I realize that it's my people, the Oneida Nation of the Thames, who have jurisdiction over me and seek their support of my dairy farm and processing plant.     
2017 - The first Iroquois governed, owned and operated on farm dairy processing plant opens in Canada.